Hello all!
Another day, another dollar! I was racking my brain this morning wondering about what I should post today. I know I've brushed the topic slightly before about health and fitness and being body positive, but today I feel the need to get a little deeper. I am truly passionate about this, as it has affected my life deeply, especially in recent years. I hope that if nothing else this sparks meaningful conversation between you and others, as well as with yourself.
You might be asking what qualifications I have to be talking about this topic. I'm not a certified nutritionist or dietitian, I'm not a doctor or a therapist (but my goal is to be a counselor someday!), and I'm not an insta-fit model or a health and wellness coach. That being said, what the heck do I have to offer? I'm so glad you asked! 😉 I mentioned in my 'Hello, my name is: Gabby' post that I am an amateur boxer and that I have lost quite a bit of weight since that began. I was a chubby kid and it was frankly just because I love food, have a slower metabolism, and I was raised in a household that of picky eaters. My parents, (specifically my dad) have always been plain-jane eaters. Maybe it's the Irish that runs thick in my dad's veins, but he basically believes that potatoes and meat are the epicenter of all human sustenance and life as we know it. My Munga (Grandma) loathes cooking, so she has a very basic, plain palette and prefers quick and easy solutions like spaghetti or chicken and creamed corn. Thank the Lord for my Aunt Zorsy whose family is Puerto Rican, she is the first to introduce a love of cooking and flavor in my life. Anyway, when I graduated high school I was a chunker, and I honestly thought skipping breakfast, snacking on granola bars, eating hamburger helper, salads drenched in ranch, and finishing the day off with a (sometimes a couple) little debbie oatmeal cream pies or a bag of microwave popcorn was normal.
I gained fast, and soon found that the bit of activity high school did offer me had made a huge difference. Enter boxing.
My coaches taught me everything I never knew about food. I religiously followed the Fast metabolism Diet by Haylie Pomroy under their recommendation – and it WORKED.
Sidebar: It still works, people. If you're looking for something that will teach you about food on a personal, deeper level, check it out. I highly recommend it!
I lost 60lb and weighed 135ish for a good year. I was happier than I had ever been, and sometimes I still catch myself looking back to 2015 and wishing I was back there, because it was what seemed to be the happiest time of my life. 135 is small on my frame. I had a flat tummy and *GASP* abs! I thought to myself, "Wow, I am really beautiful for the first time in my life." What I realize now as a special kind of good-intentioned poison were all the compliments and recognition. I had done an amazing, courageous, awesome thing by losing weight. I had become beautiful on the outside and I was now considered an athlete – a label I NEVER thought I'd have. I doubt I ever felt such strong approval from those around me. Guys from high school that always dated the popular, "pretty" girls were messaging me. My parents bragged about me. Everyone asked my advice on how I did it, how they can do it too. I had the courage to wear clothes I never thought in a million years would be in my closet or in my size. I cried happy tears when I tried on a size 6 pair of pants and they were loose, I needed the 5's and smalls in everything. I went from a size 16 down to a size 5-6. I felt like a rockstar. I won the approval of the cute guys and my family, friends, and coaches. I had accepted and reinforced the detrimental, heartbreaking equation of happiness = small body.
I wasn't anorexic, I never had that struggle, and at some of my low points I had verbally and mentally wished that I had been because they don't desire food. I had been really healthy at my low 135, don't get me wrong. I ate extremely well, but the holidays came up among other things and my state of bliss slowly faded away as I gained bit by bit back. I had restricted for so long. I trained very hard, sometimes 7 days a week. I had to coax myself into resting for a day. My mind easily jumps from one extreme to another, and before I knew it I had fallen into a dangerous binge-purge eating cycle. I would restrict, then give into something small, and then it was over. I felt like I'd ruined everything so I just went crazy and ate it all. And then I was overcome with guilt and shame, so I panicked and I would force myself to throw up. I withdrew and would isolate myself. What I am describing here is textbook bulimia. I haven't ever shared this part of my life with anyone except those very close to me, who have helped me in my recovery process. (I am so, so grateful for you guys <3)
I spent a little time in the ER over this, I tried a counselor but she was small and beautiful and I didn't think I could sit there and have someone "like her" who clearly "has never had an issue with food" in her life tell me it'll get better if I just do A, B, and C. You guys, I'm not proud of this. I feel exposed sharing this with you. I was so shallow I didn't see that I was comparing myself over and over again to other women and other people's beauty standards.
I thought I had made it through the worst of things after I admitted what was going on to my coaches, who graciously accepted the task of helping me get back on track to fight again. In boxing it is imperative to make weight-I need to fight at a lower class because girls in the 150lb category are usually really coming down from 160+. My best fight weight is 135 because of my height and strength at that weight – I naturally have the strength of someone bigger and you'll see in both amateur boxing and professional that it's quite common for athletes to drop large amounts of weight to weigh in lower. I had gained 15-20 pounds, so from there on out I measured and meal prepped and sent pictures of every meal over to my coach. I got down to 147 and won Golden Gloves for the first time. i continued to drop until I hit 140, all the while still fighting off the eating disorder.
I then found out I was pregnant with my son. I'll talk more about that experience another time (one heavy subject at a time lol), but basically to sum it up it was extremely emotional and I coped the way that was easy and familiar; I ate. I didn't restrict a thing. i ate healthy food, bad food, and lots of both. I put on 80lb during my pregnancy. The entire time I refused to and insisted that no one knew my weight. One of my nurses during my stay in the hospital for kidney stones which led up to Nash's birth accidentally wrote it on a sheet of paper left in my room. I gaped at the number. 220 pounds.
After Nash was born, I jumped right back into working out and getting healthy. I dropped all the weight. I came back down to 140-150ish. I had Nash in February, and I was back in the ring at 143lb in the end of 2017. In the last few months since winning Golden Gloves this year in May, I have struggled hard again. I thought I had conquered the bulimia after giving it up when I was pregnant, but I hadn't learned how to have a healthy balance in my diet yet, I was still one extreme or the other. This summer was truly a season of healing and restoration and learning for me. Several incidents happened that just made me give boxing a backseat for a while, and now I'm finally feeling a release from that break to start seriously training again.
It takes time, friends. There is a huge argument out there that addictions aren't diseases, I was a believer of that stance once upon a time. But after some serious eye-opening stories (my Boxing coach was an addict for years, alcoholic, pills, etc. Now 30+ years sober!! He's amazing!) my heart and mind have been changed. I realized that I myself have a food addiction, an obsession, a non-stop merry-go-round chanting about food 24/7. I didn't choose an addiction, but it slowly developed, crept up on me and changed the thought patterns in my brain. The first few times, yes, those may be choices, but after that it can be uncontrollable. The only advantage of other addicts is that their drug is illegal and usually harder to come by, mine is sitting in the fridge, on the counter, lining the walls in stores, flashing luxuriously across TV screens and splayed across the pages of magazines. I have to eat to live, and figuring out how to do that in a healthy way is really hard after having done so much damage physically and mentally.
It's not an easy road, and my heart goes out to those who struggle with food and eating. Some of the most important things are consistency, perseverance, and establishing truly healthy habits. The catalyst for me was changing the way I thought about myself. The voice in my head was cruel and relentless, telling me I was fat and undesirable and unworthy if I didn't starve or restrict. The very first bite of a cookie could send me spiraling down for days. No cookie should have that kind of power over you – and you have to weed out the wrong, negative voices in your head telling you that you aren't enough in any capacity. I wouldn't be totally honest if I didn't give credit to God for all that he has brought me through, either. I truly had to change my heart and allow Him to heal my mind. I prayed for relief and release but it wasn't until I truly began to spend time with Him in conversation and in the Word that I was able to get a breakthrough.
I allowed the Lord's voice to take the forefront in my head. While the world preached and screamed at me that I am nothing, garbage, worthless, disgusting, FAT, Jesus spoke to me and broke those words. he said, NO, you are SO loved! He says that I am whole, I am made new, I am restored as the bride of Christ. He says I am wonderful, that He delights in me and that He calls me 'Beautiful One.' And you know what? These are the things he thinks and speaks over you, too!
One area in our society that we fail at (maybe the cause is capitalism? our culture? Idk) is that we pit women against one another instead of building each other up. I love the quote:
It couldn't be more true! Who else in this world can be you?! No one! We have to stop comparing ourselves to each other and stop tearing each other down. Tearing someone else down does NOT elevate you. I would instantly feel insecure if a girl walked in the room and was pretty, thin, etc. There is no part of me that doesn't measure up just because she is pretty in her own way. This is very, very hard not to do in the midst of a society that advertises its own skewed version of 'perfection' constantly. You must learn to recognize your strengths, your beauty, and your worth and be validated by the God who gave those to you. You will not ever find it in some Instagram fitness model or some ad campaign that throws a completely different person in front of you and says "this is what you have to look like to be desirable or beautiful." I struggled with this-I still struggle with this. I make it a point to compliment other women in my head (or sometimes even verbally to them) when I think something demeaning about them. I'm not perfect guys, but if I don't try to build others up, then what am I teaching those who look up to me? Don't be so focused on everyone else that you sacrifice your peace and joy, you deserve both!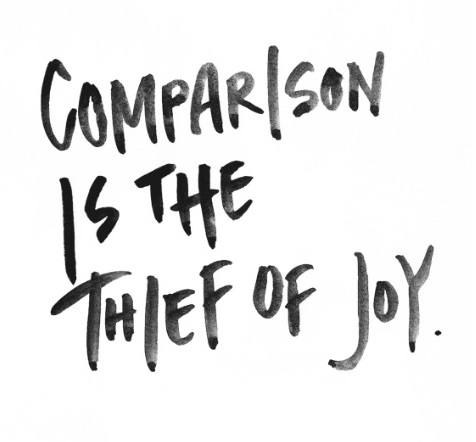 I had to learn that there was a reason I was struggling so hard, despite my endless attempts to get better. I am human. I was created with humanity that limits my ability and capability to heal and fix myself, which is exactly why people cry and pray for miracles; humans can't make those things happen on our own. I had to learn to trust in the Lord's strength in my weakness. In exchange for all of my problems and issues He gives me His boundless love and grace, and that is what keeps me putting one foot in front of another every single day. I don't operate on food or the strength of this world, that would surely mean total failure. I operate on His word and continually confess and reaffirm His words to me. I am worthy. I am enough. I am whole. I am loved. I am beautiful. For someone who knows EVERYTHING I've ever done, every single ugly thing about me, I would never think He would call me beautiful, but He does. Christ's love is the ultimate gift, and the fact that we don't deserve it is what makes Him greater than us.
I accept the new identity God has given me, and though I am soooo far from perfect and I mess it up up 24/7, His mercies are new every day. Little by little, as long as I'm faithful, I grow and move in a healthier direction every day.
Thanks for sticking this one out with me. Its taken me some time to finish this post, but I hope it encourages you and lifts you up. What you see on the outside isn't what's going on on the inside. Please share your thoughts and stories with me on this if you'd like, I am always interested and grateful for your input.
Much love,
G
P.S.
Here are some resources and scriptures that have helped me. Also, if you or someone you know has an eating disorder PLEASE speak up and talk to someone about it! There is healing and help!
tps://www.nationaleatingdisorders.org/help-support
tps://www.eatingdisorderhope.com/recovery/self-help-tools-skills-tip
Without Rival by Lisa Bevere (I love everythingthis woman writes!)
2 Corinthians 12:9
Psalm 139:14
Song of Solomon 2:1-17
Romans 3:24
2 Corinthians 5:17
Ephesians 1:4
Phillippians 4:7
Colossians 3:12